Tropical Ice Celebrates it 100th Great Walk of Africa!!
Iain writes…
The Great Walk of Africa launched Tropical Ice into the 21st Century. The idea of it came to us in 2001, and we ran the first trip in January 2002. It never dawned on us the significance of what we had created, or the impact it would have on so many of our visitors. For many, it changed their lives.
It is worth backing up a little and talking about how the Great Walk came about. The genesis was in the early 80s when I first started operating five-day walking safaris along the Tsavo River, in Tsavo West National Park. As that decade moved forward, I began operating the same styled walking safari along the Galana River in Tsavo East National Park. For 20 years, in between guiding on Mount Kenya and Kilimanjaro, I hiked these two rivers constantly and probably operated at least 100 walking safaris before the Great Walk of Africa came into being.
The Great Walk was the merging of the two rivers, but it was much more than this. At first, what we had failed to appreciate was how different in character and atmosphere they were, and once joined together, they offered two completely different worlds. In the first you felt the animal presence; in the second you saw them.
How did we change people's lives? Of the approximately 1,000 folks who have accomplished the Great Walk many will have different interpretations of this question. I feel, however, that many will agree with me when I say that the silence we insist upon whilst hiking gives many the opportunity to think about themselves and their lives. Most of us live in a fast-paced world, which seems to speed up as technology increases the possibilities. We don't have the time to read anymore, our attention spans unwittingly shorten by the day. Time for private, personal thoughts is becoming increasingly rarer. The Great Walk of Africa gives us no choice, we are forced to slow down, balance ourselves… and think.
There are other reasons why it changes people. For 10 days we are constantly challenged as we hike across 100 miles of untamed, natural wilderness, which teaches us the simple fact that we aren't quite as important as we perhaps thought we were. When completed, for most people there is a palpable sense of accomplishment, of having found a small piece of earth yet to be compromised by humans.
Some may feel I'm exaggerating, but I don't think so. We have a growing list of people who have done the walk several times (some 4 or 5), taking something different from it each time. On my travels, I often meet old clients, many of whom have done amazing trips in many different parts of the world. I am continually told, there was nothing like the Great Walk. Next week a small group of travellers will set off on the 100th Great Walk of Africa. We will make a big deal of this, we'll try and make it even more fun than it usually is, but for some of them the celebration will be internalized, a personal one. At least, we hope so.
Here's to the next 100!
GREAT WALK OF AFRICA
(Outside Magazine's Trip Of The Year 2006; and Must do "Bucket List" trip 2012)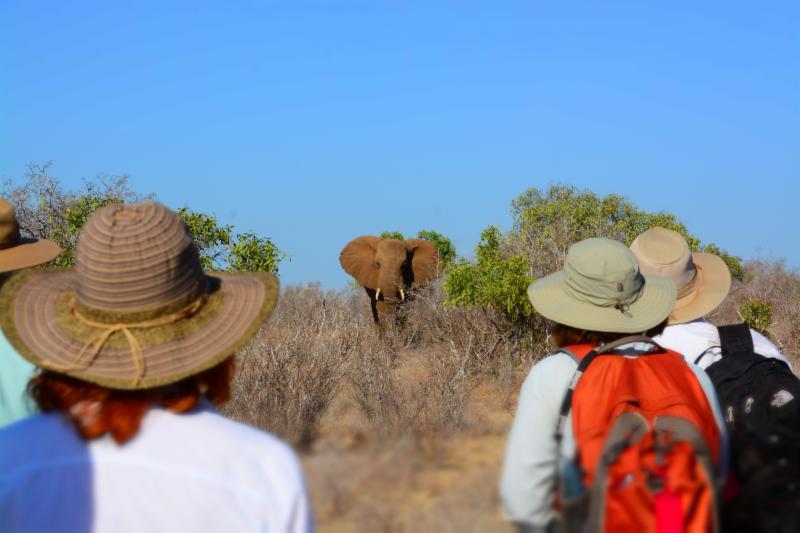 2020 departure dates:
| | | |
| --- | --- | --- |
| June 1 | June 13 | Now taking bookings |
| June 14 | June 27 | 2 spaces remaining |
| June 28 | July 11 | 5 spaces remaining |
| July 12 | July 25 | 3 spaces remaining |
| July 26 | August 08 | 6 spaces remaining |
| August 09 | August 22 | 6 spaces remaining |
| August 23 | September 05 | 4 spaces remaining |
| September 06 | September 19 | 7 spaces remaining |
| September 28 | October 11 | Now taking bookings |
Comments are closed.